Archive for the 'SEIU' Category
"We deeply regret the necessity of today's decision, but we do not have the financial resources to weather an extended nationwide strike," CEO says
Hostess, the makers of Twinkies, Ding Dongs and Wonder Bread, is going out of business after striking workers failed to heed a Thursday deadline to return to work, the company said.
"We deeply regret the necessity of today's decision, but we do not have the financial resources to weather an extended nationwide strike," Hostess CEO Gregory F. Rayburn said in announcing that the firm had filed a motion with the U.S. Bankruptcy Court to shutter its business. "Hostess Brands will move promptly to lay off most of its 18,500-member workforce and focus on selling its assets to the highest bidders."
Hostess Brands Inc. had warned employees that it would file to unwind its business and sell off assets if plant operations didn't return to normal levels by 5 p.m. Thursday. In announcing its decision, Hostess said its wind down would mean the closure of 33 bakeries, 565 distribution centers, approximately 5,500 delivery routes and 570 bakery outlet stores in the United States.
The Irving, Texas-based company had already reached a contract agreement with its largest union, the International Brotherhood of Teamsters. But thousands of members in its second-biggest union went on strike late last week after rejecting in September a contract offer that cut wages and benefits. Officials for the Bakery, Confectionery, Tobacco Workers and Grain Millers International Union say the company stopped contributing to workers' pensions last year.
In an interview with Fox Business, CEO Gregory Rayburn said many workers had already crossed picket lines this week to go back to work despite warnings by union leadership that they'd be fined.
"The problem is we don't have enough crossing those lines to maintain normal production," said Rayburn, who first joined Hostess earlier this year as a restructuring expert.
Hostess said that production at about a dozen of the company's 33 plants had been seriously affected by the strike. Three plants were closed earlier this week.
The privately held company filed for Chapter 11 protection in January, its second trip through bankruptcy court in less than a decade. The company cited increasing pension and medical costs for employees as one of the drivers behind its latest filing. Hostess had argued that workers must make concessions for it to exit bankruptcy and improve its financial position.
The company, founded in 1930, was fighting battles beyond labor costs, however. Competition is increasing in the snack space and Americans are increasingly conscious about healthy eating. Hostess also makes Dolly Madison, Drake's and Nature's Pride snacks.
If the motion is granted, Hostess would begin closing operations as early as Tuesday.
"Most employees who lose their jobs should be eligible for government-provided unemployment benefits," Hostess said.
BY JOE NEWBY


About 200 activists with the Service Employees International Union (SEIU) stormed a Dunkin' Donuts in Carlisle, Pennsylvania, to attack Mitt Romney and demand an increase in the federal minimum wage, Dan Miller of the Patriot News reported Friday.
The SEIU members "picked Dunkin' Donuts because the chain is partially owned by Bain Capital, the private equity firm that Romney used to head," Miller wrote.
But as Jazz Shaw noted at Hot Air, Bain did not purchase Dunkin' Donuts until 2006 – long after Romney was gone.
Shaw also wrote that "Bain and friends purchased Dunkin' Donuts from its previous French owners, Pernod Ricard."
"This shifted the flow of the successful breakfast chain's profits (and the taxes paid on them) back to the good old U.S of A rather than going overseas to France," he wrote.
Some of the protesters wore Romney masks, Miller wrote, engaging in a "pseudo counter-protest, based on what the union said is Romney's opposition to increasing the federal minimum wage."
According to Miller, the protesters came from all over the state and were attending a "state-wide leadership conference at the Hotel Carlisle Embers Convention Center" in Middlesex Township.
Five buses were used to bring the protesters to the Dunkin' Donuts.
"The screaming protesters stormed the franchise – terrifying customers and workers – and posted signs about the 99% on the windows," Jim Hoft wrote at the Gateway Pundit.
After the collapse of 17-month-long union negotiations on July 3, unionized health-care workers walked out of five nursing home facilities in Connecticut, but not before placing some elderly patients in dire medical risk through acts of sabotage, according to the company that owns and operates the facilities.
"In the hours leading up to the strike by the New England Health Care Employees Union, District 1199 SEIU (the Union) against five HealthBridge Management Health Care Centers in Connecticut, Union members engaged in multiple illegal and dangerous acts against Center residents," reads a statement released by HealthBridge on Tuesday afternoon.
According to police reports obtained by The Daily Caller and reported Monday by the RedState blog, HealthBridge Management Health Care Centers alleged that union employees in at least three of its facilities intentionally mixed up or removed patient name plates, photos, medical bracelets and dietary advisories as they began their strike. Additionally, the police reports include allegations of both vandalism and larceny.
A July 3 police report from the Danbury Health Care Center in Danbury, Conn., states that "between the hours of 2300 [11:00 pm] on 7/2/12 and 0700 [7:00 am] today, 7/3/12, there were several incidents that directly affected and potentially could have negatively impacted patient care."
"The incidents ranged from clean linens being thrown on the floor to more serious incidents whereby patients' identification wrist bands were removed as well as patient identifiers on room doors and wheelchairs."
"There are no suspects," the report continues, but "the persons involved are presumed to be employees who are part of a protest taking place outside outside against the Danbury Health Care Center."
At the Newington Health Care Center, in Newington, Conn., police reported that "several items were discovered missing," including six handles used to operate patient lifts for individuals with mobility problems. Several stethoscopes and blood pressure cuffs were also reported missing.
Read more: http://dailycaller.com/2012/07/18/striking-seiu-workers-intentionally-endangered-ct-nursing-home-patients-says-company/#ixzz214A8v8ng
BY JOE NEWBY
On Thursday, the Supreme Court ruled against the SEIU and said unions must let nonmembers object to unexpected fee increases that all workers are required to pay in a closed-shop, Fox News reported.
In a lopsided 7-2 decision, the Justices overturned the Ninth Circuit Court of Appeals in Knox v. SEIU, a case dealing with coercive union dues collected from non-members that are used for political purposes.
Justices Sotomayor and Ginsburg joined the majority in the case, but wrote a separate concurrence.
Justices Stephen Breyer and Elena Kagan dissented.
Fox News reported that the seven justices "ruled for Dianne Knox and other nonmembers of the Service Employees International Union's Local 1000, who wanted to object and opt out of a $12 million special assessment the union required from its California public sector members."
Stephen Hayward at Powerline called it "an important blow against labor unions," but Townhall's Guy Benson said the ruling "may not be the sweeping loss for the government sector unions that some conservative would like to think it is," since it is limited to nonmembers and "focuses on a squabble over proper notification of special political dues."
Amy Ridenour wrote at her National Center Blog that the ruling is a victory for free speech against a "tyrannical union."
"A close connection exists between this Nation's commitment to self-government and the rights protected by the First Amendment," wrote Justice Alito, citing Brown v. Hartlage.
"The government may not prohibit the dissemination of ideas it disfavors, nor compel the endorsement of ideas that it approves… And the ability of like-minded individuals to associate for the purpose of expressing commonly held views may not be curtailed," he added.
"When a State establishes an 'agency shop' that exacts compulsory union fees as a condition of public employment, '[t]he dissenting employee is forced to support financially an organization with whose principles and demands he may disagree.' …This form of compelled speech and association imposes a 'significant impingement on First Amendment rights.'"
Movement trying to distance itself from anarchy ring
by AARON KLEIN
The FBI criminal complaint seems to go to great lengths to not mention Occupy. Instead, the 21-page document – reviewed by WND – refers a number of times to "events" attended by the suspects. The "events" were Occupy protests.
Get Aaron Klein's "Red Army: The Radical Network that must be defeated to save America" from WND's Superstore
WND was first to report last week that Occupy had partnered with anarchy groups to engage in joint "direct action."
Douglas L. Wright, 26; Brandon L. Baxter, 20; and Anthony Hayne, 35; were arrested yesterday by members of the FBI's Joint Terrorism Task Force on charges of conspiracy and attempted use of explosive materials to damage property affecting interstate commerce.
Also arrested were Connor C. Stevens, 20; and Joshua S. Stafford, 23. Charges are pending against them.
The FBI said it had a source and an undercover agent who infiltrated the anarchy ring, which plotted to detonate the explosives last night on Ohio's Route 82 Brecksville-Northfield High Level Bridge.
The bridge carries a four-lane highway over part of the Cuyahoga Valley National Park in the Brecksville area, about 15 miles south of downtown Cleveland, the FBI said.
Occupy members
Multiple news media outlets today quoted sources in the Cleveland-area Occupy as recognizing the suspects.
Johnny Peskar, an Occupy leader, told msnbc.com that Occupy organizers had seen a few in the plot hanging around earlier events, but their actions were "autonomous," he said.
"We don't need any implications in this nonsense," Peskar said.
Occupy Cleveland canceled today's May Day protests upon news of the arrests.
The London Daily Mail also quoted an Occupy Cleveland member as saying at least some of the suspects had attended the group's events.
WND found Baxter was described in March as an "Occupy member" by Cleveland's Plain Dealer newspaper.
On March 5, the paper reported that "five members of Occupy Cleveland were arrested Monday after they protested property foreclosures by interrupting a sheriff's sale."
The paper quoted "Brandon Baxter of Lakewood" as saying "he had no regrets for making sure people heard the message." The FBI document notes Baxter is from Lakewood.
Continued Baxter: "I took the risk of getting arrested because I feel the powers that be, whoever they might be – on all levels of government and those who hold corporate power – are not listening because not enough people are actually taking a stance" against foreclosures, he said.
"I was hoping that this would be a great way to get Cleveland more involved by showing the potential that a small group of dedicated people can have in making an impact. Even though we are not in any government position or in Congress, we do have the power."
WND further found that Baxter set up an Occupy Facebook page titled "Stand with the Occupy Movement Against Suppression!"
The FBI complaint, meanwhile, seems to go out of its way to not mention Occupy. It details how a confidential FBI source attended an Oct. 21 protest "event" and "identified four suspicious males with walkie-talkie radios around their necks." Three of the four had masks covering their faces.
While the event referenced wasn't named, that very day Occupy Cleveland held its Occupy the Banks operation.
One suspect, Wright, said he believed leaders at the "event" were conspiring with corporate America and police, and he needed to recruit from outside that group, in homeless shelters and neighborhoods, the FBI complaint states.
The FBI document described how an undercover agent sold faulty C4 explosives to the group, purportedly to be detonated on the bridge last night in the lead up to today's nationwide May Day protests.
The FBI document relates that at end of March, Baxter talked about getting a permit for an "upcoming festival" in Cleveland and believed he was going to have a difficult time getting one.
Once again, the FBI document doesn't identify the festival. However, WND found that "Occupy and Friends" in April announced its "Occupy the Heart Street Festival."
Occupy partners with anarchy group
While Occupy leaders attempt to distance their group from the Ohio anarchists, WND reported last week Occupy has partnered with an anarchy movement to deploy joint chaotic actions aimed at protesting capitalism.
Two weeks ago, Occupy D.C. and an anti-capitalist group calling itself the Anarchist Alliance D.C. Network caused a ruckus at an International Monetary Fund convention. Protesters reportedly attached climbing ropes to security barricades outside the main IMF entry checkpoint and pulled them down. Other ropes were used to pull down obstacles along the path delegates used to attend the meetings.
Protesters stormed several hotels where IMF delegates were staying, including the Washington Circle Hotel and the Mayflower.
A Facebook "anarchy" page was created in the run-up to the IMF event. The page, titled "Anarchy Spring training and IMF protest in DC-April 19th to 20th-2012," served as an online planning forum.
The Occupy Wall Street website initiated a subsection titled "anarchy" in which related events are posted. The site boasts of a Manhattan protest earlier this month, following an anarchy book fair, in which agitators marched through the streets turning over trash cans and spraying anarchy symbols on local businesses. Protesters reportedly used eight-foot-long metal pipes to smash the windows of a Starbucks in New York's East Village.
One group, calling itself the First of May Anarchist Alliance, has partnered with Occupy to protest the Trayvon Martin shooting.
The anarchy tactics apparently come directly from the playbook of a direct-action organization known as the Ruckus Society, which helped to spark the 1999 World Trade Organization protests in Seattle that turned violent.
Ruckus is directly tied to Occupy. WND previously reported how official direct-action training resources for Occupy events include several manuals from the Ruckus Society.
Ruckus was also listed as a "friend and partner" of Occupy events, including the movement's Days of Action held in October 2011.
Ruckus is funded by the George Soros-financed Tides Center, which has been involved in Occupy since the movement's onset.
Another grantee of Tides is the Adbusters magazine, which first announced the Occupy movement. MoveOn.org, which has joined Occupy, is funded by Tides.
With research by Brenda J. Elliott
EAG.org released this must-see video today on the Wisconsin socialist protest movement. The Wisconin protests last year were a preview of what was to come from the orchestrated Occupy Wall Street protests. The video explains like never before how the left uses chaos and violence to move their selfish platform forward.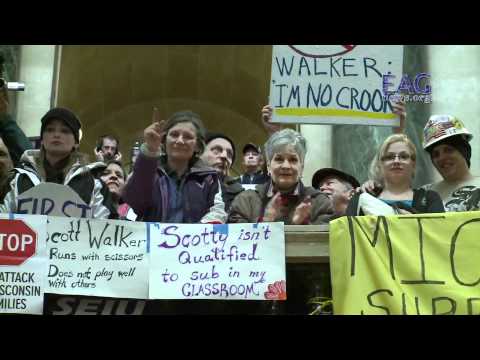 EAGnews.org has produced an exclusive video report disclosing who and what were behind the massive demonstrations, the occupation of the Capitol in Madison, and extreme tactics employed to stop Walker's reforms from being enacted.
Titled "Anarchy 101: How Wisconsin's Left Embraces Chaos," the report takes us through the protests, legal challenges and subsequent recall efforts of 2011 and 2012. It features Brett Healy and Brian Fraley of the MacIver Institute, Collin Roth of Media Trackers, an unidentified citizen journalist on the ground for many of the protests, and State Sen. Alberta Darling, a target of death threats, intimidation tactics, and a failed recall attempt last year.
It also features two teachers, including Kenosha's Kristi Lacroix, and a school board member who would not be silenced by the radicals' intimidation tactics and spoke to EAGnews about the benefits of Scott Walker's reforms.
By the way…….
GP has a Drudge hit today so we cut back on the blogposts per page for a while to help handle the traffic.