Archive for the 'Allen West' Category
Republican Rep. Allen West says he is conceding the race for Florida's 18th district to Democrat Patrick Murphy two weeks after the election.
Appearing on "Fox and Friends" early Tuesday, the first-term Congressman said his campaign is not going to challenge the results of the election, despite its earlier concerns over alleged voting irregularities and calls for a recount.
"While many questions remain unanswered, today I am announcing that I will take no further action to contest the outcome of this election," West said in a statement.
The campaign's announcement comes after election officials in St. Lucie County missed a deadline Sunday to report results of a two-day partial recount of early votes.
This means that earlier submitted results favoring Murphy will be certified unless an emergency exemption is granted by the state.
West said he decided the legal battle his campaign would need to wage in order to contest the official election results ultimately proved too costly.
"Given the extremely high evidentiary hurdles involved in a successful challenge, I will not ask my generous supporters to help fund a drawn-out, expensive legal effort with little chance of success," he said.
West tells Fox News the decision was not a rough one, saying "leaders don't need a title to be able to lead." He said his immediate plans include enjoying Thanksgiving with his family.
Read more: http://www.foxnews.com/politics/2012/11/20/rep-west-concedes-house-race-to-challenger-murphy-wont-contest-election-results/?test=latestnews#ixzz2Cli8wKlF
West gave a brilliant speech on America's military power and why it is essential for peace in the world that we have a strong military because as he put it, the world is more Machiavellian than it is Kantian.
The speech portion only goes for about 11 minutes and the Q&A takes up the remaining 22 minutes or so.
Watch below:

By Javier Manjarres
Top national Democratic operative Charles Halloran has been retained by a new George Soros-backed super-PAC to target Congressman Allen West for defeat this November. Halloran is a former aide to President Bill Clinton and is one of the most respected voter targeting/turn out experts in the Democratic Party. Halloran ran the successful campaign of Democrat Tim Mahoney that won the seat of former Republican Congressman Mark Foley.
The Super PAC has been christened "Dump West" and is expected to file with the Federal Election Commission early next week. Sources have told The Shark Tank that a website along with a targeted web advertising campaign will soon be launched. Democratic House Minority Leader Nancy Pelosi asked former Congressman Larry Smith, who's now working as a lobbyist, to help line up initial funding for the group. West is said to be at the top of Pelosi's hit list.
Sources have also us that left wing billionaire George Soros is among those who committed to a $5 million war chest to defeat West. "It's not surprising that the hard Left is seeking to beat West" said Florida Tea Party leader Eric Von Tausch "West's a conservative hero."
According to sources Halloran has brought in "American Directions" to manage the Super-PAC's effort for internet based, low-dollar fundraising, polling and voter contact. "American Directions" is among the heavy weight firms in Washington DC and is considered on the on the cutting edge of the most sophisticated technology for voter contact through text messaging and email as well as sophisticated voter mailings.
The Democratic Congressional Campaign Committee is fully on-board in the efforts to raise money for the "Dump West" effort. West's Democratic opponent Patrick Murphy has raised a sizeable war chest and those donors who has given him the maximum are viewed as potential donors to the "Dump West" effort.
Conservative activists think that exposure of the Soros backed anti-West Super PAC will only spur pro-West Super-PAC activities. "We need to spend dollar for dollar with the liberals to re-elect Allen," said Von Tausch.
Also a matter of speculation is the involvement in these efforts of DNC Chairwoman Debbie Wasserman Schultz, who is facing a tough re-election race from Republican candidate Karen Harrington.
ALLAN WEST NEEDS YOUR HELP – GO TO www.http://www.allenwest2012.co/
Now this>>>Soros-Backed SuperPAC Targeting Allen West Confidential Memo Leaked | http://bit.ly/NmHgEU
Congressman Allen West treated South Floridians to another dose of Liberal smack down at the Miami-Dade GOP's annual Lincoln Day soiree in Miami, Florida. West to a shot at Communist Cuba's Castro Regime, and reminded everyone of just how much of a threat Castro's "BFF" ,Venezuela Strong ManHugo Chavez poses to the Western Hemisphere.
Just think about 90 miles from where we are sitting tonight, there's and Island, a state sponsor of Terrorism. It currently holds one of our own American sons hostage, and even the Coddler-In-Chief feels it necessary to appease and provide concessions to the regime of the Castros.-Congressman Allen West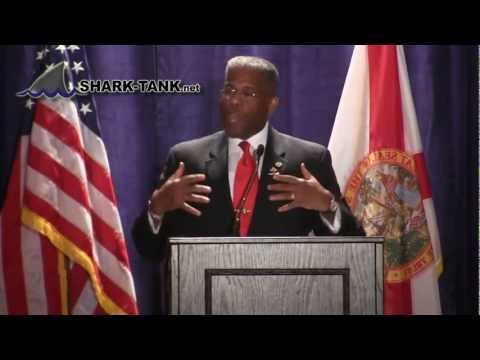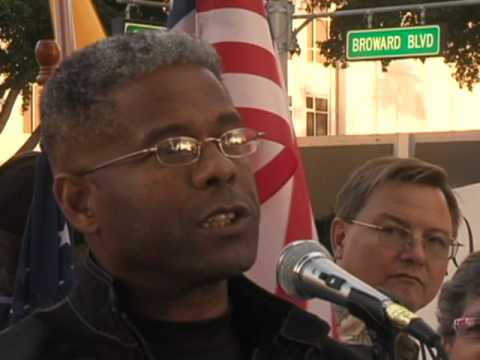 At an event commemorating the first full year of weekly rallies in support of Israel held at Broward Boulevard and Northeast Third Avenue in Fort Lauderdale Florida Congressional candidate Allen West details his reasons to support Israel. Content News, Israel & Politics All content Copyright Channel1Images Inc 2009.