Posts Tagged 'Barry Soetoro'
photo shows Herb Allison testifying on Capitol Hill in Washington. (AP Photo/Gerald Herbert, File)
A veteran Wall Street executive who performed an independent review that exonerated the Obama administration's program of loans to energy companies contributed $52,500 to re-elect President Obama in the months since completing his work, according to an Associated Press review of campaign records.
The executive defended the integrity of his conclusions and said he decided to donate to Mr. Obama after his work was finished.
The campaign contributions to Mr. Obama started just weeks after Herbert M. Allison Jr., in congressional testimony in March, minimized concerns that the Energy Department was at high risk in more than $23 billion in federal loans awarded to green energy firms.
Two weeks later, Allison began giving to the Obama campaign. His contributions to Mr. Obama and the Democratic National Committee totaled $52,500 by last month.
Allison previously was the former head of the government's mass purchase of toxic Wall Street assets.
Allison did not make any Obama donations during his four-month review of Energy Department loans, and he has a long history of working with and giving money to both political parties.
However, Republican Party officials and congressional critics of the energy loans said Allison's donations to Mr. Obama raise doubts about his objectivity and highlight his decision not to assess multimillion-dollar loans to two companies that later went into bankruptcy — the troubled Solyndra solar panel company and Beacon Power, an energy storage firm.
Allison's report, completed in February and touted by the White House, acknowledged that the Energy Department could lose as much as $3 billion in loans, but it concluded that was far less than the $10 billion set aside by Congress for high-risk companies. The review did not assess the two bankrupt firms because those loans were no longer current.
Allison told Congress that "DOE has negotiated protections in the loan agreements that enable it to cut off further funding and to demand more credit protection if projects do not meet targets." He also urged the Energy Department to toughen its oversight.
Allison defended the integrity of his review in an interview with The Associated Press. He said that he did not make the decision to back a presidential candidate until after he had finished his work and that his selection was approved by Energy Department lawyers before he began his review last October to "ensure there was no hint of bias or conflict of interest."
"I was on the record with the White House that this had to be completely independent review and they agreed," he said Wednesday in a telephone interview from his home in Westport, Conn. "It didn't hew to anybody's political suasion, I think, and it had to be fully factual or it wouldn't be credible."
Allison said he made his decision to support Mr. Obama after he saw "his administration in action and decided that I believe broadly in the things he's trying to accomplish."
Allison gave $2,500 to the Obama campaign on March 29, two weeks after he testified to the Senate Energy and Commerce Committee about his review. In May, he gave $15,000 to the Obama Victory Fund, a joint fundraising committee that supports both the president's re-election campaign and the Democratic National Committee. Allison gave the same amount to the fund again in June and then $20,000 more in July.
Allison has donated money to both parties, but his gifts in the past have tended to be much smaller than his current contributions, typically no more than $1,000 or $2,000, according to Federal Election Commission records. Allison explained his larger donations to the Obama campaign by saying, "There's a hell of a lot more money in politics today than in years past, and I decided I could go this route."
Allison has given to GOP figures such as Sen. Tom Coburn of Oklahoma and Sen. Chuck Grassley of Iowa, and to Democrats such as Rep. Carolyn Maloney of New York and former Nebraska Sen. Bob Kerrey. Allison's presidential preferences have been mostly Republicans — Sen. John McCain of Arizona and former Sen. Bob Dole of Kansas. He also gave $2,300 to Mr. Obama in 2008, a year before Mr. Obama appointed Allison as an assistant treasury secretary.
The White House and the Obama campaign defended Allison, saying his donations did not taint his work as independent reviewer of the loans program. They pointed to his repeated hiring over the past two decades by Republican presidential administrations and GOP campaigns as justification that Allison had the independence to oversee troubled government programs.
"Mr. Allison was selected to do this study because of his relevant expertise, and he is a public servant widely respected by Democrats and Republicans alike," said Eric Schultz, a White House spokesman. Schultz added that Allison's "analysis of the DOE loan portfolio was thorough and reliable, as evident by additional independent reports affirming his findings." The Obama campaign said, "Having completed an independent assignment does not cost him his right to continue participating in the political progress on behalf of many candidates, as he has in the past."
A former Merrill Lynch executive, Allison worked for several Republican administrations and earned a reputation for tackling troubled federal programs. During McCain's failed 2000 presidential run, he served as national finance chairman and was rumored to be McCain's choice to become treasury secretary if he had won.
Allison was named by President George W. Bush to head Fannie Mae after the quasi-government home lending agency was placed in conservatorship in 2008 following the Wall Street collapse. A year later, Mr. Obama named Allison as an assistant treasury secretary to oversee the Troubled Asset Relief Program that Mr. Bush had created to stabilize Wall Street banks and investment houses reeling with toxic debt.
During his work at the Treasury Department, Allison was among top officials who crossed swords with TARP Inspector General Neil Barofsky, who accused the department of failing to properly track government bailout money given to banks and investment houses. Barofsky declined to comment about his dealings with Allison.
Allison left the Treasury Department in 2010, but returned last year to head up the review of energy loans. The White House agreed to the review in the wake of mounting Republican criticism after Solyndra, a California firm, went belly up. The bankruptcy cost U.S. taxpayers $528 million in lost loans.
Rep. Cliff Stearns, R-Fla., who chairs the House Energy Committee's oversight subcommittee, said Allison's donations to the Obama campaign back up GOP warnings this year that the White House review was suspect. Stearns said Allison's "financial support for the Obama campaign undermines (his) credibility and shows once again that the president did not want a careful, independent review of his risky green jobs scheme."
Allison's role as a large Obama donor "raises serious questions about an administration that puts campaign cash before taxpayer money," said Joe Pounder, a spokesman for the Republican National Committee.
Allison declined to say whether he will keep donating to Mr. Obama. "Next time around," he said, "I might support a Republican."
By Javier Manjarres
While campaigning for Republican presidential nominee Mitt Romney in Aventura, Former NYC Mayor Rudy Giuliani, who is highly regarding among members of the 'conservative' Jewish community, made the case for why Jewish-Americans should vote for Mitt Romney and not President Obama this coming November.
After his address to those in attendance, Mayor Giuliani took a few minutes to talk to the Shark Tank about President Obama's position on Israel and the recent disclosure that he will only visit Israel if he is re-elected President.
Rudy Giuliani made it very clear how he felt about President Obama's appeasement of the Islamic world and betrayal of Israel. Giuliani also stated that Obama's approval rating with Israelis is a paltry 12%. When asked what he thought about President Obama being referred to as Israel's closest friend, the good mayor responded-
I think that is the biggest joke I've ever heard- that he's a friend of the state of Israel, I think that he is the least supportive President to the state of Israel that we've ever had since the state of Israel has existed, Republican or Democrat. -Mayor Rudy Giuliani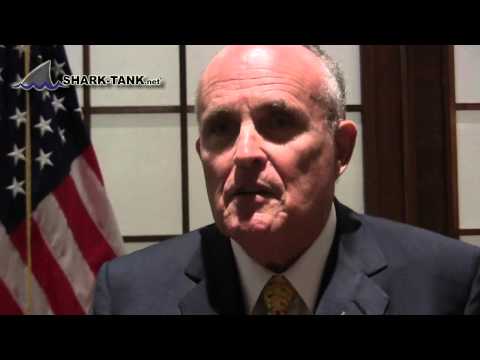 By Boyd Richard Boyd
Obviously something is rotten on Pennsylvania Avenue; no intelligent American president would do the things Obama has done. There has been talk of his inexperience, incompetence, or just plain stupidity to explain his Bizarro-administration. However, Obama is not incompetent; he is an intelligent anti-American president. Obama is not a failure at his job — his job is the failure of our country.
Liberty-minded folk have several reasons why we assume another person is incompetent rather than malicious. One reason is our belief that a person is "innocent until proven guilty"; another is the natural presumption others are similar to ourselves. Unfortunately, these ideas have been coupled with a pair of dangerously pragmatic moral equivalencies foisted upon us all: "Who am I to judge?" and "They couldn't possibly mean that." As long as there is any possibility that Obama is just in over his head and doesn't mean what he says and does, many will excuse him on those grounds.
Every American must judge Obama and his ideas and understand he does mean what he says, and realize there is no excuse, save one — Barack Obama is an anti-American in thought and deed.
Obama gets dreams from his socialist father. His mother was a fellow traveler. Obama lived in anti-American Indonesia as a child. Later, granddad decided Obama needed a Communist mentor. O got into Harvard on the recommendation of anti-Semitic Khalid al Mansour, an adviser to Saudi Prince Al-Waleed bin Talal. In college O chose his friends carefully — "the more politically active black students, foreign students, Chicanos, Marxist professors and structural feminists." As a professor he taught Marxist Saul Alinsky tactics, and as a constitutional scholar he believed that there are fundamental flaws in the Constitution, such as restraint on governmental power. As a community organizer and counsel he pushed sub-prime mortgages which helped buckle our economy.
He's a trench-mate with voter-fraudsters ACORN and quasi-commie SEIU. He had house parties and sat on boards with an unrepentant, revolutionary communist, who probably ghostwrote one of O's autobiographies. He attended the social-justice church of Jeremiah Wright, where he was preached at on collective salvation and black liberation. Illinois state senator and communism-lover Alice Palmer, picked O as her chief of staff. As a U.S. senator, he had the most leftist voting record. His wife's only source of American pride came in her 40s as a result of O's own success. He was endorsed by the Communist Party in 2004, and in 2008 Obama got CPUSA's endorsement again, basically running on the CPUSA platform. (And yes, CPUSA have endorsed him again for 2012!)
And this was before the campaign and presidency. Does his bio reflect incompetence or something more sinister? Does his journey sound like one of an all-American or an anti-American?
In his own words, during the campaign:
Sept, 17 2007 to SEIU:
"[Y]our agenda's been my agenda[.]"
November 2007 to ACORN:
"I've been fighting alongside ACORN on issues you care about my entire career."
December 2007 addressing ACORN and other community organizations:
"[W]e're going to be calling all of you in to help us shape the agenda, We're going to be having meetings all across the country with community organizations so that you have input into the agenda for the next presidency of the United States of America."
January 5, 2008 to SEIU
"I've been working with the SEIU before I was elected to anything … We are going to paint the nation purple with SEIU. SEIU, I'm glad you are with me. Let's together change the country. SEIU! SEIU!"
January 17, 2008
"[I]f somebody wants to build a coal-powered plant, they can, it's just that it will bankrupt them…under my plan of a cap-and-trade system, electricity rates would necessarily skyrocket."
May 16, 2008 in Oregon:
"We can't drive our SUVs and eat as much as we want and keep our homes on 72 degrees at all times … and then just expect that other countries are going to say OK…That's not leadership. That's not going to happen."
June 3, 2008 in St Paul Minnesota
"This was the moment — this was the time –when we came together to remake this great nation"
July 13, 2008 to La Raza:
"[W]e rise and fall together as one people…And together, we won't just win an election — we will transform this nation."
October 12, 2008 to Joe the Plumber:
"I think when you spread the wealth around, it's good for everybody."
October 30, 2008 at the University of Missouri, Columbia:
"We are five days away from fundamentally transforming the United States of America[.]"
How many Marxist groups will he share agendas with before it's apparent? How many times will he say he wants to change, remake, or fundamentally transform America before we believe he wants to?
Almost everything Obama says and does is a scripted, controlled, and choreographed event. The man causes relentless instability, yet it is all planned. We know where his ideas come from: the George Soros-funded, Hillary Clinton-founded Center for American Progress and Joel Rogers' Apollo Alliance with help from its ex-Weather Underground co-founder, among others.
As president he's appointed the following foxes as hen house guards:
A former SEIU member who kind of agrees with Mao…as manufacturing czar.
A former commissioner of Socialist International, eco-profiteer, and CAP board member…as global warming czar.
An ACORN defender and Obama's private attorney…as ethics and transparency czar.
A revolutionary communist…as green jobs czar.
A power-lusting control freak longing to delimit choices…as regulatory czar.
An anti-capitalist Chicken Little peddling junk science…as science czar.
A man who thinks terrorists represent the legitimate needs and grievances of ordinary people…as counter-terrorism czar.
An anti-Israel "poverty breeds terrorism" theorist…as U.S. ambassador to the U.N.
A woman who believes that Congress can abridge free speech and another who thinks the court of appeals is where policy is made…as Supreme Court justices.
An SEIU VP, activist for the Working Families Party, and political director for Bertha Lewis, the head of ACORN's New York chapter…as director of the office of public affairs to help push the president's agenda.
A man who gives guns to drug cartels while allowing them to smuggle drugs in, who refuses to protect our borders while litigating any state which tries to defend its own as and turns a blind eye to voter intimidation…as attorney general.
A woman worried about white right-wing extremists while she has Grandma groped at the airport…as homeland security chief.
A woman who proposes that the U.S. has the right to protect "Palestine" from Israel…as a foreign policy adviser.
SEIU president and Marxist Andy Stern and the AFL-CIO's Dick Trumka are/were two of the most frequent White House guests. Obama directs NASA's chief to perform Muslim outreach. The EPA will handle cap and trade after Congress said no. The borders won't be secured until O gets amnesty for millions of potential voters with no allegiance to America. O imposed a drilling ban for oil, then said the judge could fly a kite when the judge lifted the ban. Brazil purchased some of those rigs, and Obama wants to be a big consumer of Brazil's oil. His administration may have facilitated the murder of a border agent and is trying to suppress second-amendment rights, as a result.
His Tea Party mockery, the takeover of industries, the contortions of Obamacare, the slow response to BP's oil spill, the tens of thousands of new regulations, the aggressive deficit spending, the Fed's printing sprees, bowing to and borrowing from anti-Americans — all are part of the blueprint. Even his petulance, arrogance, constant golfing, and "let them eat cake" attitude are part of the plan. Obama understands how grating such behavior is to any American who doesn't worship strongmen. His glaring at Netanyahu after throwing Israel under the bus, his browbeating the Supreme Court during the SOTU, and of course, his Mussolini-like poses with his chin touching the ceiling are all calculated to intimidate some into a cult of personality and alienate others. And he has done so much more.
Obama has never stood for individualism, capitalism, or liberty. Everything he does has the reek of statism, collectivism, and tyranny, but not because he is an incompetent bumbler — though he may be in many areas, sans TOTUS — it's because he is a statist and a collectivist and the citizens of our country naïvely gave the reins of power to a tyrant.
To paraphrase the Wizard of Oz, an honest Obama would say to us, "Oh, no, my fellow world citizens, I'm a very good anti-American president. I'm just a very bad American president."
Boyd Richard Boyd blogs as the Cold Hearted Patriot at www.catwyp.com and is the author of America Vs. Anti-America. E-mail: coldheartedpatriot@yahoo.com. Twitter: @ColdHartPatriot.
Read more: http://www.americanthinker.com/2011/08/the_anti-american_president.html#ixzz1wMQONwJo