Posts Tagged 'Donald Trump'
Senior Obama campaign adviser Robert Gibbs said on Sunday that he would not be "lectured" about running a negative campaign while GOP hopeful Mitt Romney continued to use a "right-wing nut job" like so-called birther Donald Trump.
During an interview on Fox News, host Chris Wallace noted that Romney had been accusing President Barack Obama of waging "a campaign of division and anger and hate."
"I'm not going to get lectured by Mitt Romney or anybody on the Romney campaign about the tone of this campaign," Gibbs explained. "This is a guy that's flown all over the country saying he's not sure whether the president believes in America."
"[Romney is] auctioning off dinners with birther-in-chief, right-wing nut job Donald Trump, who still questions whether or not the president of the United States was born in America."
"I'm happy to listen to charges and counter charges," he added. "But the notion we're going to get lectured by Mitt Romney and his campaign about running a positive campaign, that's a pill far too big to swallow."
Only a day before appearing at a Las Vegas fundraiser with Romney in May, Trump said "nothing's changed my mind" about doubting the president's citizenship, and suggested the president was "born in Kenya and raised in Indonesia."
As recently as last week, the billionaire reality star hinted that he would have a "wild" role at the Republican National Convention.
by Steve Coz
Billionaire real estate mogul Donald Trump blasted President Barack Obama's senior adviser Robert Gibbs Sunday as "vicious and hateful" after the former press secretary called Trump a "right-wing nut job" on Fox News.
"I was a great student at a great school, Wharton School of Finance," Trump told Newsmax late Sunday night. "I built a net worth in excess of $8 billion, built a tremendous company, and have employed tens of thousands of people. I hardly see where I qualify under his definition."
"The Obama representatives like Robert Gibbs attack people viciously, but people like me will not be silent and will answer them back," Trump said. "It is a shame that they are so vicious and hateful—and that is why the country is so terribly divided."
"Obama and his attack dogs have nothing but hate and anger in their hearts and spew it whenever possible," Trump added. "Obama has no solutions. Obama has failed the country and its great citizens, and they don't like it when somebody such as myself speaks the truth about this — it hurts too much."
During an interview on "Fox News Sunday," Gibbs used the smear against Trump while trying to make a point about GOP presidential candidate Mitt Romney.
Fox News host Chris Wallace had asked Gibbs about Romney's description of the Obama campaign's tactics as being built on "division and anger and hate."
"I'm not going to be lectured by Mitt Romney or anybody on the Romney campaign about the tone of this campaign," Gibbs began. "This is a guy who's . . . auctioning off dinners with the birther in chief, right-wing-nut-job Donald Trump, who still questions whether or not the president was born in the United States of America.
"I'm happy to listen to charges and countercharges," Gibbs added. "But the notion that we're going to get lectured by Mitt Romney and his campaign about running a positive campaign, that's a pill far too big to swallow."
Trump flirted with the idea of a presidential candidacy last year and even enjoyed a brief turn in the polls as the front-runner. He first gained serious attention in March 2011 with his harsh words for China and his tough critique of the Obama administration's weak foreign policy.
He recently declined an offer to deliver a prime-time speech at the Republican National Convention, but he has been promising to deliver a big "surprise" at the convention in Tampa, Fla., which begins on Aug. 27.
He's also been making headlines in his day job, as the billionaire developer and household name known for bold deals. Trump is turning his attention to golf courses that he's purchased and developed in Scotland, Los Angeles, and soon, Miami. The Miami course Trump is buying for $150 million, The Doral, features five championship golf courses and will soon be renamed Trump National Doral, The Washington Post recently reported.
Michael Cohen, special counsel to Trump, said Gibbs was clearly using Trump's name and fame in order to distract from the nation's worsening economic problems.
"The campaign is once again trying to distract the public from the issues plaguing this great country, namely an unsustainable debt and an unemployment rate so high that people are giving up," Cohen said. "Mr Trump has solutions, and he speaks his mind. Obama has no solutions, so he and his attack dogs attack people instead of attacking the problems. It is a sad commentary on the office of the president of the United States."
Gibb's smear against Trump came on a day when remarks made by Vice President Joe Biden early last week continued to dominate the political conversation.
On Tuesday, Biden, speaking in Danville, Va., told an audience that included many African-Americans that the Romney campaign would put "y'all back in chains."
Republicans — and even some Democrats like former Virginia Gov. Douglas Wilder — blasted the comments as racist. It was one of several gaffes that Biden made during the week, including getting the present century wrong as well as misidentifying the state in which he was speaking.
Former New York Mayor Rudy Giuliani, who earlier in the week questioned whether Biden had the "mental capacity" to serve as vice president, went even further on Sunday.
"Joe is a laugh line on Jay Leno; he's not a vice president," Giuliani said on NBC's "Meet the Press." "He's a joke. You never know what he's going to say."
Former Reagan speechwriter and Wall Street Journal columnist Peggy Noonan agreed.
"If it had been a Republican vice presidential candidate who had made those gaffes, one after another, so comically, and all on tape, the subject today of the panel would be, How stupid is this person — can this person possibly govern?" Noonan said on "Meet the Press."
And former Republican presidential candidate Rick Santorum, speaking on CNN's "State of the Union," called on Biden to apologize.
"I saw the vice president play the race card in Virginia," Santorum said.
Romney campaign senior adviser Ed Gillespie said personal insults and smears seem to be a tactic designed to take attention away from the economy and other vital issues.
"The Obama-Biden campaign is going to continue to try to make this about little things and distractions," Gillespie said on "Fox News Sunday." "I think it's a shame that the campaign of hope and change has denigrated to one of fear and smear, but I think the American people want to have the bigger debate."
Trump agreed.
"Robert Gibbs is nothing more than a mouthpiece for a desperate campaign that once promised us hope and change and has given us nothing but debt and unemployment," Trump said. "Our country is in serious trouble, and something must be done."
Read more on Newsmax.com: Trump Fires Back at Obama Campaign Smear
Important: Do You Support Pres. Obama's Re-Election? Vote Here Now!
NY Times
By JEREMY W. PETERS

It's officially a reality television Republican primary now.
Donald Trump is pairing up with Newsmax, the conservative magazine and news Web site, to moderate a presidential debate in Des Moines on Dec. 27.
"Our readers and the grass roots really love Trump," said Christopher Ruddy, chief executive of Newsmax Media. "They may not agree with
him on everything, but they don't see him as owned by the Washington establishment, the media establishment."
Mr. Trump's role in the debate, which will be broadcast on the cable network Ion Television, is sure to be one of the more memorable moments in a primary season that has already delivered its fair share of circus-like spectacle.
Mr. Trump's own flirtation with running for president this year seems almost quaint (whose birth certificate was he all worked up about?) compared with more recent distractions – like allegations of adultery and sexual harassment, gaffes that seemed scripted from a late-night comedy show, and a six-figure line of credit at Tiffany & Co.
But despite being derided by liberals – President Obama likened Mr. Trump to a "carnival barker" for his repeated assertions that the president was actually foreign-born – the real estate mogul carries weight with a certain element of the conservative base. And that sway seems particularly strong with the Tea Party wing of the base, which will be a decisive factor in the early primaries that are likely to determine the nominee. The debate, which unlike many recent ones will not be limited to a specific topic like national security or the economy, is set to happen just a week before the Iowa caucuses.
Newsmax sent candidates the invitation on Friday afternoon. It began, "We are pleased to cordially invite you to "The Newsmax Ion Television 2012 Presidential Debate," moderated by a truly great American, Mr. Donald J. Trump." Spokesmen for several candidates did not immediately respond to questions from The New York Times about whether they would accept.
Though presidential candidates may initially balk at the idea of appearing in a debate where Mr. Trump – with his bombast and The Hair – is the one posing the questions, they may ultimately see it as an invitation they can't refuse. In fact many of the candidates have already met with him, some more publicly than others. Representative Michele Bachmann has sat down with Mr. Trump several times this year. Gov. Rick Perry of Texas had dinner with him at Jean Georges, the posh Manhattan restaurant. And Mitt Romney paid a visit but carefully avoided being photographed.
And Newsmax is a powerful player itself. It has a broad reach into the conservative base, with monthly Web traffic second only to Fox News among sites with conservative-leaning audiences.
Mr. Trump has been a popular attraction at the Conservative Political Action Conference, the annual gathering in Washington. He was such a successful presence in the eyes of Fox News executives that they added a special weekly segment to their morning show "Fox and Friends" for him called "Mondays With Trump."
Whether his professed presidential ambitions are genuine or merely a publicity stunt seems not to matter in terms of the news media attention Mr. Trump can command. His highly publicized flirtation with running this year coincided with a Trump-branded product that stood to benefit from all the attention – a new season of his highly rated NBC show "Celebrity Apprentice."
The arc of his noncampaign was similar in 1987 and 1999 – when Mr. Trump also said that he was considering running for president, episodes that are often forgotten.
His book "Trump: The Art of the Deal" was published in November 1987 and reached The New York Times best-seller list by December. But by the time the Republican National Convention rolled around in August 1988, he had opted out.
"Everybody wants me to do it," he declared then. "But I have no interest in doing it."
And in late 1999, just before his book "The America We Deserve" went on sale, he began courting support as a candidate on the Reform Party ticket. He even toured the country with his girlfriend, Melania Knauss, now his wife. The outcome? You guessed it.
by  Jonathon M. Seidl
Republican presidential candidate Texas Gov. Rick Perry arrives at Trump Tower in New York Wednesday, Sept. 14, 2011, for a meeting with real estate developer Donald Trump. (AP Photo/Craig Ruttle)
Is Donald Trump getting ready to endorse Rick Perry for president? Could a Perry/Trump pizza summit be just around the corner? Is Rick Perry courting Trump as a VP candidate?
Those are just some of the questions we're asking after we spotted Perry and Trump walking out of Trump Towers early Wednesday evening in New York City. It's unclear why the two were together and neither one (not surprisingly) responded to on-site questions about their meeting. But what is clear is that they were there — and so were we: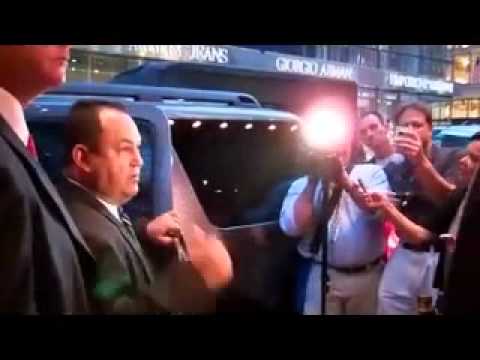 Here's a roundup of what some are saying about the meeting.
CBS:
The business mogul-turned-reality TV star has a 4 p.m. ET meeting with Perry at Trump Tower in New York City, Trump's spokesman, Michael Cohen, confirmed to CBS News/National Journal. According to Cohen, Perry requested the meeting.
"It's obviously about the presidency," Cohen said. "Everyone wants Mr. Trump's support." A Perry spokesman confirmed that the Texas governor "is having dinner with the Donald" and said the meeting would focus on jobs.
After briefly considering — and then dropping — plans to run himself for the GOP presidential nomination, Trump has met with several of the party's White House contenders or potential contenders, including Rep. Michele Bachmann, R-Minn., and Sarah Palin. In May, Trump treated Palin to pizza at La Famiglia in Times Square. Cohen said this time around, Trump will take Perry to a higher-end restaurant on Central Park West.
One twist to the story: Cohen said that while Trump is reviewing his endorsement options, "he's still not out of" the race himself.
But after Perry meets with Trump at his Trump Tower abode on Fifth Avenue, the two will head out to dinner. Not to of-the-people La Famiglia Pizzeria as Trump did with Sarah Palin in June. Nope. The Republican Party powerhouses will roll across town to the Trump International Hotel and Tower on Columbus Circle for dinner at ultra-chic Jean Georges.
That dining detail was dropped by Trump when we chatted Tuesday. I gave the reality-television star a call to discuss Monday's Republican presidential candidates debate in Florida. "Very interesting," is how Trump described the Tea Party debate. He also noted that some of the candidates exhibited "a lot of anxiety." He was no doubt alluding to candidates struggling to break out of the shadow of Perry and Mitt Romney.
The 2012 frontrunner was in the Big Apple for fundraisers as well as a high-profile meeting with the publicity-seeking host of "The Apprentice."
Trump briefly flirted with the idea of running for the GOP nomination earlier this year, hammering President Barack Obama on charges that he may have not been born in the country, before bowing out.
"I think he's a very impressive guy," Trump said of Perry in a recent interview with ABC's George Stephanopoulos. "I think he's very ready. He's been governor of Texas for a long time. Texas has done very well … He's a tough guy. He's a smart guy."
CBS News reported that the meeting took place at Trump Tower in New York City at the request of Perry.
Donald Trump has said he decided not to run for president in 2012, but the billionaire businessman could still be playing a key behind-the-scenes role in the Republican White House race.
Word is that Trump has spoken on the phone several times with Texas Gov. Rick Perry, the new front-runner for the GOP nomination. Sources say Perry called the billionaire and offered high praise for Trump's business acumen.
We hear that Trump likes Perry and the two will likely meet face to face sometime in September.
Trump has become his own "Iowa" — a must-do stopping point for all GOP candidates.
He met with former GOP vice presidential nominee Sarah Palin, who has yet to announce if she will seek the presidency next year. The two had a 15-minute get-together at Trump's Manhattan penthouse on May 31.
Afterward Palin told reporters she and Trump share "our love for this country, a desire to see our economy put back on the right track," and Trump said "I'd love her to run" for president.
Trump met earlier with former Arkansas Gov. Mike Huckabee before Huckabee decided not to run for president, and the two had a "very honest and open conversation about the process of running," Huckabee said.
Then on July 28, Huckabee said in an email he thought the time may be ripe for Trump to re-enter the presidential race.
Former Massachusetts Gov. Mitt Romney is also in the mix, said to be meeting with Trump in early September.
And Trump recently praised another GOP presidential candidate, Ron Paul, saying in a tweet: "Ron Paul is right that we are wasting trillions of dollars in Iraq and Afghanistan."
Trump has said he would not run for president as a third-party candidate. But Patrick Caddell, a respected political pollster and strategist, co-wrote an op-ed piece in Thursday's Wall Street Journal predicting that a third-party candidate will enter the presidential race.
The article cited a poll showing that 57 percent of voters now say there is a need for a third party, and stated that voters are seeking a leader offering "a new direction and a proven record of getting things done."
Our sources say Caddell and Trump have been huddling at posh Trump Tower offices in New York.