Posts Tagged 'gOVERNMENT WASTE'
BY PHILLIP SWARTS
Why It Matters:
Lawmakers are zeroing in on anyway to trim dollars from the federal budget. A group of watchdog representatives are concerned about the $1.7 billion the government is spending on vacant and unused buildings.
Everyone sat on plastic folding chairs, on a concrete floor in front of rows upon rows of empty industrial shelves. Speakers sometimes had to pause, to keep the rumble of trucks outside from drowning out their words.
An abandoned warehouse was an unusual spot for an official Congressional committee hearing last week, a far cry from the gilded halls of Capitol Hill. But the Oversight and Government Reform Committee thought the location would help draw attention to one area of federal waste: billions of dollars spent over the last decade on maintenance and upkeep for empty buildings the government doesn't use.
"We have vacant buildings like this eating taxpayer dollars and bureaucrats unable to make a decision," said Rep. John Mica, R-Fla., chairman of the subcommittee on Government Operations. "At a time in which the government is struggling to try to make ends meet and our deficits are climbing, I think it's appropriate that we look at the multi-billion dollar waste and practices that do not adequately address the problem of vacant properties and underutilized assets.
According to a report by the Government Accountability Office, Congress' chief watchdog agency, the federal government owns more than 100,000 office buildings, warehouses and other structures that aren't in use. And maintenance and upkeep on those vacant buildings costs an estimated $1.7 billion each year.
It's one type of spending that Ranking Member Gerald Connolly, D-Va., said should come to an end.
"Every dollar spent on an unnecessary lease is a dollar diverted away from a mission-critical function," he said. "In this current era of austerity, inefficiencies such as these have real world consequences for the citizens they serve."
As the seat of the federal government, D.C. alone has roughly 14,000 of the abandoned buildings. The location of the committee hearing, a warehouse located in southeastern D.C., was used by the Pentagon's Joint Chiefs of Staff for storage until 2009. Now it sits vacant and unused, costing tens of thousands of dollars in maintenance and upkeep each year.
"This is a $70,000 a year hearing," Connolly joked.
But officials at the General Services Administration, the government's landlord, said it's not as simple as listing a property on the market. First, other government agencies must be given a chance to use the building if they want. The U.S. Court of Appeals for Veterans Claims had been interested, but eventually decided not to use the warehouse, said Michael Gelber, the Acting Deputy Commissioner for the GSA's Public Building Service.
Now the GSA is trying to evaluate a fair market price for the structure, Gelber said. By selling the warehouse, GSA expects it can get $19 million to spend on repairs at other government facilities.
"We have a large number of facilities that are in need of repair," Gelber said.
The money lost on the vacant buildings isn't the only issue lawmakers are concerned about. The abandoned warehouse in southeast D.C. could be given to the local government and turned into a vibrant community center, supporters argued.
"This property is just off from M St., which essentially has been remade into an entirely new community," said Rep. Eleanor Holmes Norton, who represents D.C. in the House but has no voting power.
Holmes Norton said she would be supportive of a proposal that would give the property to the city. The warehouse is in one of Washington's most rapidly growing neighborhoods, the waterfront along the Potomac River. And it's just two blocks away from National's Ballpark, where D.C.'s professional baseball team plays.
Local residents are supporting the "Half Street Market initiative," a proposal to turn the building into a multi-purpose education and culinary center.
"Half Street Market presents a unique and exciting opportunity to create a public amenity that will promote economic development, support small business, and prepare D.C. residents for D.C. jobs," said David Garber, the advisory neighborhood commissioner for the area the warehouse is in.
Garber described the plan as a "vibrant public market and restaurant that will operate a workforce development and education program for D.C. residents, host community education programming and provide a shared-use commercial kitchen."
Local resident Tom Worrell, 67, said he and his wife just bought a condo across the street from the abandoned warehouse, partially because of the Half Street Market plan.
"One of the decisions in that factor was seeing the proposal for this several months ago," he said.
If the warehouse were converted into an educational and culinary center as proposed, Worrell said it would help train people for jobs in D.C.'s many restaurants and cooks, waiters and other staff.
"We think it's a very good use of the area, good educational use," he said.
But first control of the warehouse has to be handed over to the city, a move that would likely deprive GSA of the payday it was hoping for. Because the agency is just starting the process to sell the warehouse, it hasn't even been listed as "excess" property, the first step in allowing the city government to take over control.
Gelber said any decision the GSA reaches will keep in mind that the property is in the middle of a growing community. Chairman Mica said he hopes a mutually beneficial compromise could be reached between the GSA and the city.
The hearing comes as D.C. citizens overwhelmingly voted for a measure that would give the city control greater control over its budget. As a federal territory, D.C. doesn't have the full autonomy of a normal city, as almost much of its spending be approved by the U.S. government.
Meanwhile, as politicians continue to debate the best use of the facility, the warehouse sits unoccupied, costing money.
"The problem is no one's doing anything," Mica said. "The process they've gone through…has taken an extraordinary amount of time, and here it sits."
One of Mica's colleagues echoed his concern.
"There are two ways to get things done here in Washington, D.C.: slow and never," lamented Rep. Mark Meadows, R-N.C., upon hearing GSA did not have a firm timetable to sell the building.
Government Grant Money

"Two years of experiments on social phenotypic plasticity in duck penis length…"
Despite the sequestration forcing the Obama Administration to cancel White House tours, and Senator Harry Reid (D-NV) blamed the same on a military training accident that claimed the lives of seven U.S. Marines, the federal government managed to find almost half a million dollars to study the length of duck's penises, as reported by the news portal Cybercast News (CNSNews.org) on March 19, 2013.
As cited by CNSNews.org, the website for Recovery.gov gives details on the $384,949 grant from the National Science Foundation (NSF) to Yale University for a study on "Sexual Conflict, Social Behavior and the Evolution of Waterfowl Genitalia."
The grant was made available to the Ivy League school through the American Recovery and Reinvestment Act, better known to the American people as the Obama stimulus package.
When A Ruler Just Doesn't Cut It…
As cited in a 2010 fourth quarter recovery.gov update on the study:
"In the last quarter, we have prepared a manuscript for submission on the results of the first two years of experiments on social phenotypic plasticity in duck penis length in Lesser Scaup and Ruddy Duck.
Experiments continued on genital social phenotypic plasticity in Mandarin Duck and Laysan Teal."
According to the NSF grant abstract, the study shows that age, environment and breeding changes can impact the penis length of certain ducks.
Proving how important this study will benefit not only all waterfowlkind, but all mankind as well:
"Broader impacts of the research will be international, national, local, and personal."
To further emphasis the point, NSF spokeswoman Deborah Wing was quoted:
"Government funded grants for research have assisted in creating the barcode and Google."
So That's How They Made It Bigger…
Wing went on to state:
"The NSF strives to be good stewards of taxpayers dollars.
Basic research often is combined with other research efforts and turns into bigger things."
The Pentagon was inundated with so many studies in 2010 that it commissioned a study to determined how much it cost to produce all those studies.
Now the Government Accountability Office has reviewed the Pentagon's study and concluded in a report this week that it's a flop.
The study of a study of studies began in 2010 when Defense Secretary Robert Gates complained that his department was "awash in taskings for reports and studies." He wanted to know how much they cost.
Two years later, the Pentagon review is still continuing, which prompted Congress to ask the GAO to look over the Pentagon's shoulder. What they found lacked military precision.
The GAO found only nine studies that had been scrutinized by the Pentagon review, but the military was unable to "readily retrieve documentation" for six of the reports.
The Department of Defense's "approach is not fully consistent with relevant cost estimating best practices and cost accounting standards," the GAO concluded. In fact, they often did not include items like manpower, the report found.
The Pentagon "partially concurs" with the GAO's report.
The cost of the study of the study of the studies was not available from the GAO.
NEARLY 300 NEVER DRIVEN PRIUS'S FOUND
What would you do if you stumbled into a secret warehouse full of brand new cars? Well, step into the shoes of Miami-Dade County officials to find out.
A fleet of 298 never-before-used cars, most of which are Priuses, were recently discovered by Miami-Wade officials, after having learned of them though a Spanish language newspaper. Most of the car warranties have expired with little to no miles on the odometer. The cars were purchased in 2006 and cost the taxpayers $4 million.
The county, aware of the political ramifications, immediately rushed 123 of the cars into circulation.
The Toyota warranty insures some hybrid parts for up to eight years or 100,000 miles. That doesn't do much good when you consider the cars were parked in a hot and humid car lot, rusting away. The autoblog.com suggests there could be unknown damage done to the unused hybrid powertrain.
So how does one just simply lose 298 brand new cars?
An investigation is being done to determine exactly how this taxpayer funded debacle happened. It is believed that the cars got "lost" during the recall and eventual ousting of then Mayor Carlos Alvarez. Not surprisingly, he was removed from office after voters "felt, among other reasons, that he had been behind multiple acts of misappropriation of funds."
Read more: http://dailycaller.com/2012/04/26/miami%e2%80%99s-vice-nearly-300-never-driven-priuses-found/#ixzz1tGxvJbIPRIUS
Free Lunch…But not for you!
900 teachers just got laid off from the Los Angeles Unified School District . They are $650,000 over their annual budget.
The following English teacher helps to explain one area that looms large over California 's educational crisis.
THIS HAS GOT TO BE PASSED ALONG TO AS MANY AS
POSSIBLE OR WE WILL ALL GO DOWN THE DRAIN BECAUSE A FEW DON'T CARE.
This English teacher has phrased it the best I've seen yet.
This should make everyone think, be you Democrat, Republican or Independent
From a California school teacher – - -
"As you listen to the news about the student protests over illegal immigration, there are some things that you should be aware of:
I am in charge of the English-as-a-second-language department at a large southern California high school which is designated a Title 1 school, meaning that its students average lower socioeconomic and income levels.
Most of the schools you are hearing about, South Gate High, Bell Gardens, Huntington Park , etc.. where these students are protesting, are also Title 1 schools.
Title 1 schools are on the free breakfast and free lunch program. When I say free breakfast, I'm not talking a glass of milk and roll — but a full breakfast and cereal bar with fruits and juices that would make a Marriott proud. The waste of this food is monumental, with trays and trays of it being dumped in the trash uneaten.
(OUR TAX DOLLARS AT WORK)
I estimate that well over 50% of these students are obese or at least moderately overweight. About 75% or more DO have cell phones. The school also provides day care centers for the unwed teenage pregnant girls (some as young as 13) so they can attend class without the inconvenience of having to arrange for babysitters or having family watch their kids.
(OUR TAX DOLLARS AT WORK)
I was ordered to spend $700,000 on my department or risk losing funding for the upcoming year even though there was little need for anything; my budget was already substantial. I ended up buying new computers for the computer learning center, half of which, one month later, have been carved with graffiti by the appreciative students who obviously feel humbled and grateful to have a free education in America ..
(OUR TAX DOLLARS AT WORK)
I have had to intervene several times for young and substitute teachers whose classes consist of many illegal immigrant students here in the country less than 3 months who raised so much hell with the female teachers, calling them "Putas" (whores ) and throwing things, that the teachers were in tears.
Free medical, free education, free food, day care, etc, etc, etc. Is it any wonder they feel entitled not only to be in this country but to demand rights, privileges and entitlements?
To those who want to point out how much these illegal immigrants contribute to our society because they LIKE their gardener and housekeeper and they like to pay less for tomatoes: spend some time in the real world of illegal immigration and see the TRUE costs.
Higher insurance, medical facilities closing, higher medical costs, more crime, lower standards of education in our schools, overcrowding, new diseases etc., etc, etc. For me, I'll pay more for tomatoes.
Americans, We need to wake up. The guest worker program will be a disaster because we won't have the guts to enforce it. Does anyone in their right mind really think they will voluntarily leave and return?
It does, however, have everything to do with culture: A third-world culture that does not value education, that accepts children getting pregnant and dropping out of school by 15 and that refuses to assimilate, and an American culture that has become so weak and worried about "political correctness " that we don't have the will to do anything about it.
If this makes your blood boil, as it did mine, forward this to everyone you know including your Congressmen and Senators.
CHEAP LABOR? Isn't that what the whole immigration issue is about?
Business doesn't want to pay a decent wage.
Consumers don't want expensive produce.
Government will tell you Americans don't want the jobs.
But the bottom line is cheap labor. The phrase "cheap labor" is a myth, a farce, and a lie. There is no such thing as "cheap labor."
Take, for example, an illegal alien with a wife and five children. He takes a job for $5.00 or 6.00/hour. At that wage, with six dependents, he pays no income tax, yet at the end of the year, if he files an Income Tax Return,
he gets an "earned income credit" of up to $3,200 free.
He qualifies for Section 8 housing and subsidized rent.
He qualifies for food stamps..
He qualifies for free (no deductible), no co-pay) health care.
His children get free breakfasts and lunches at school.
He requires bilingual teachers and books.
He qualifies for relief from high energy bills…
If they are or become, aged, blind or disabled, they qualify for SSI.
Once qualified for SSI they can qualify for Medicare. All of this is at (our) taxpayer's expense .
He doesn't worry about car insurance, life insurance, or homeowners insurance.
Taxpayers provide Spanish language signs, bulletins and printed material.
He and his family receive the equivalent of $20.00 to $30.00/hour in benefits.
Working Americans are lucky to have $5.00 or $6.00/hour left after paying their bills AND his.
The American taxpayers also pay for increased crime, graffiti and trash clean-up.
Cheap labor? YEAH RIGHT! Wake up people!
THESE ARE THE QUESTIONS WE SHOULD BE ADDRESSING TO THE PRESIDENTIAL CANDIDATES FOR EITHER PARTY. 'AND WHEN THEY LIE TO US AND DON'T DO AS THEY SAY, WE SHOULD REPLACE THEM AT ONCE!'
THIS HAS GOT TO BE PASSED ALONG TO AS MANY AS
POSSIBLE OR WE WILL ALL GO DOWN THE DRAIN BECAUSE A FEW DON'T CARE
Just when you think there are no new ways for the Federal government to waste your tax dollars, those creative geniuses in DC surprise us all.
Say hello to the money-munching mouse known as Squeaks!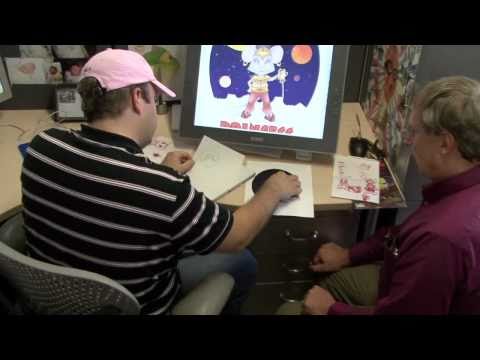 Yes, of course, the history of printing is something that should be taught in our schools, but did the Federal government need to reinvent the wheel here?  This space-exploring mouse is the star of a comic book printed by the GPO at a cost of $5.90 PER COMIC BOOK! If that doesn't make your head spin, wait until you hear that the GPO sells the book for just $5.00, a loss of nearly one dollar for each comic book!
Are there no comic book companies left in the country that could have taken this project and execute it at a lower cost? Hello? Marvel and DC Comics would likely trip over themselves to get a hold of a large government printing contract.
This makes no economic sense. If the government needs cars, do they build them from scratch? No, we BUY them from people who make cars… they may require a few special options, but that is what manufacturers do for large clients. They customize a product while still saving money for the customer.
Perhaps I am jumping to conclusions here. Maybe 'Squeaks' is a unique situation…
From the GPO's own web page;
Publisher: Government Printing Office, Publications and Information Sales
Description: Squeaks Discovers Type! is the story of a video game space mouse who helps an elementary school student Jake discover the invention of printing and its evolution through the ages so Jake can write a report. Squeaks is a collaboration between two U.S. Government Printing Office employees, Jim Cameron (Publication and Information Sales) and Nick Crawford (Creative Services). The story is perfect for introducing kids to the history of print. Illustrated in color, the art is outstanding and rivals anything you'll find in a comic book store.
Nope, nothing special here. Just typical government waste.